We are one of the few UK Registered Charities delivering humanitarian aid directly to the People of Ukraine IN UKRAINE. If you want to follow our story and contribute any donations please do so via our JustGiving link.
We believe that the plight of millions of Ukrainian Refugees who had to leave their homes and seek safety from war and destruction is something that no modern, peace-loving nations should ignore. Indeed, a litmus test for any civilised society is how it treats those reaching its lands in pursuit of safety. Today's story of how we welcomed and supported those fleeing Russia's unprovoked war on Ukraine will be how our children and their children will judge us in times to come.
But there is another story enfolding under our eyes, the tragedy of those left behind, of entire communities who for a multitude of reasons could and would not leave their homes. This is the story of millions of internally displaced people fleeing the war zones in the South and East of Ukraine who also need our help.
These are the people we vow to help for us long as they will need us and for as long your donations help us do it.
We hope that through this page, you will get to know who we are, what motivates us, about our story, our work and – hopefully – how you can join us.
Humanity will prevail!
Please kindly donate via our JustGiving link.
For those interested in our previous work in Romania can see for themselves what we did.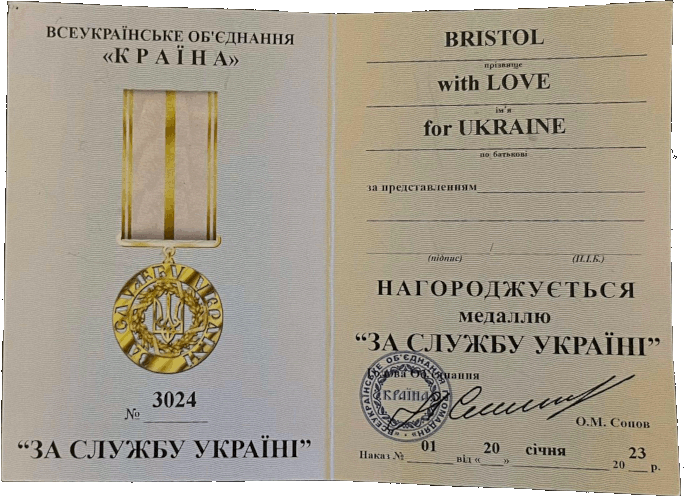 Our Story
From Bristol with Love for Ukraine, is a small community-based charity delivering humanitarian aid and hope to Odesa and the neighbouring villages.
About ten years ago, Ileana and I have launched a small charity with the aim of delivering humanitarian aid to children with special needs in Romania. This was shortly after our disabled son Toni had a major brain surgery and we were so impressed and grateful with the quality of care he received from our amazing NHS that we wanted to share some of the care and kindness we ourselves received with other children, less fortunate than our son. It so happened that back in our home-country Romania, Ileana herself was a teacher with several years experience in various special needs schools so she remembered vividly the ardent need for support of her former colleagues.
As people and communities over here in Bristol learned about our work, our charitable project grew from helping special needs schools to supporting entire communities at risk of social exclusion and marginalisation, then into a fully fledged Charity complete with a UK Charity Commission registration, a Lloyds Treasurer account and a several dozens strong team of Volunteers.
Whilst our work expanded and reached about 20 counties in Romania, we decided to keep our family Charity small but grant full visibility to anybody interested in who we are and what we do. And things carried on like this for the best part of a decade with peaks of activity around Christmas and Easter and quieter spells during summer school holidays. In December 2013 I became the Honorary Consul of Romania in Bristol and in December 2018, the President of Romania bestowed on me the unexpected and immense honour of making me a member of Romania's second national order, the Order of the Faithfull Service with the rank of Knight. I dedicated that great honour to all Donors and Volunteers who supported us in our work – our success was theirs as much as it was ours.
Looking back, we were and always will be proud of our modest beginnings, sending tons of aid from our garden shed and any church hall we could borrow now and then.
Recently however, after Russia's unprovoked invasion of Ukraine, appalled by the wanton destruction and death going on in there, we decided to change focus and, on the 27 February, three days after the invasion, we sent our first consignment of humanitarian aid to Ukrainian refugees on the Romania's side of the border. We started with 15 boxes – that's all we could gather between our family, neighbours and friends in three days. A week later we chose Odessa because through my contacts, I was able to establish a safe and direct corridor between Bristol and there.
Since then, our family-based project grew into a real community of like-minded people, of Bristolians of various ethnicities, views and convictions. One belief unites us all though: Humanity will prevail! Likewise, our aid gets delivered to everybody who needs it in Odessa and the surrounding region: military and civilians, abled and disabled, irrespective of their ethnicities or creeds.
Recently, in the presence of Bristol's Lord Mayor we sent out the equivalent of our 4,000th box of humanitarian aid. Through generous donations received from the wider community we sent thousands of boxes of medical and first aid consumables, food, personal hygiene, domestic cleaning, sleeping bags, blankets and lots more. We also sent high grade medical equipment, generators, tactical boots and tshirts for the brave Ukrainian soldiers and even an ambulance generously donated by a Cornish creamery.
Like another small, community-based Charity before us, who started back during the Second World War as Oxford Famine Relief Fund for Athens, later to become Oxfam, we vow to continue to do what we do for as long as the People of Odessa need us and for as longs as you, our Donors, will keep us funded and supplied.
Ileana and I, along with our Strategic Board, our Donors and Volunteers do not aspire to become another Oxfam, just to do our bit in ensuring that
Humanity WILL Prevail!