From Bristol With Love has donated 5 tonnes of aid per month since the war in Ukraine broken out.
This includes all types of humanitarian aid, food, medicine, clothing, power generation, and the basic needs for the Ukrainian military.
As a charity we have zero overheads as Bristol City Council kindly provide our storage facility and cover the overhead costs of lighting and heating so we can distribute aid directly to the Ukraine.
We transport this aid directly by self-funded volunteers from the UK.
We have several aid corridors open and many contacts in the Ukraine who are advising us on the priorities of the aid required. If you would like to donate please either use the JustGiving link below or the bank details of the From Bristol With Love registered charity in the caption below.
Every box is packed and tracked directly to were it is needed in Ukraine. We know that any donations will get through to where they are needed.
Humanity will Prevail.
Please donate to With Bristol With Love.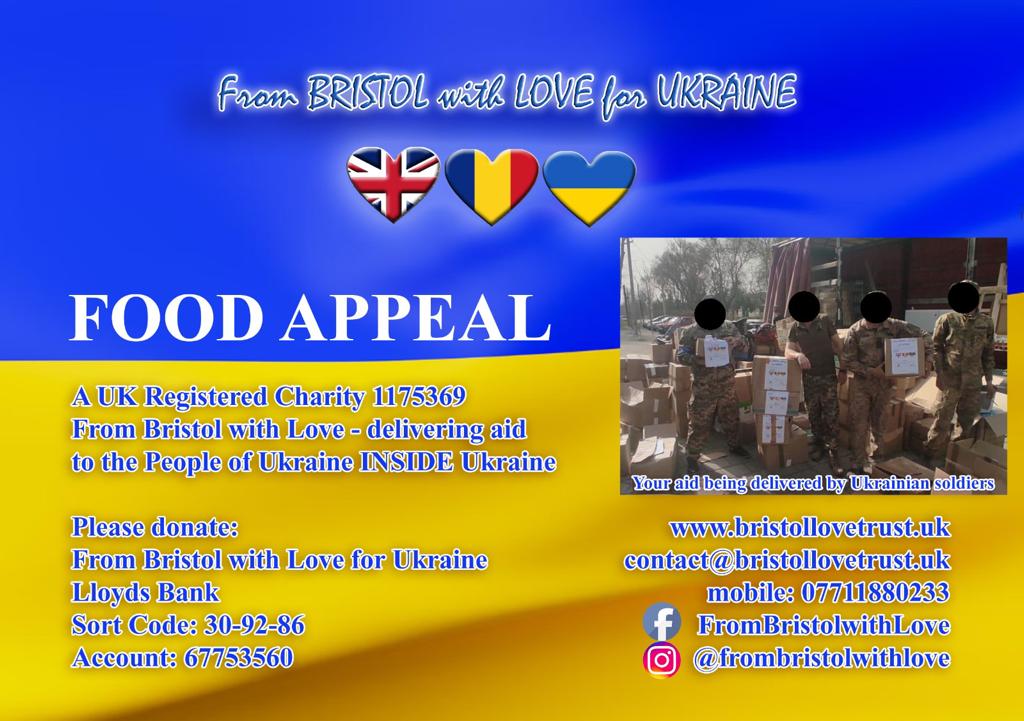 Contact Us
Our From Bristol with Love for Ukraine team is constantly seeking to improve our operations and maximise the impact of your donations and contributions. Should you wish to contribute it is easy to do so via our JustGiving page.
Please contact us with us with your thoughts, comments and suggestions for further improvement – we look forward to hearing from you.
From Bristol with Love for Ukraine
BICU (Bristol International Centre for Ukraine)
9 Willway Street
Bristol BS3 4BQ
Our email address is: admin@fbwl.co.uk
0(44)7788770775