Deliveries No.45 & No.46
Delivery date: 26 February 2023
Delivery type: Overland
Transporter 1: Daniel Smith and Johnny Cam
Transporter 2: Garry Frost and David Smallwood
Approximate quantity: 214 Boxes
Delivery contents: Generators (25 total), First aid, Camping, Clothes
One Year On!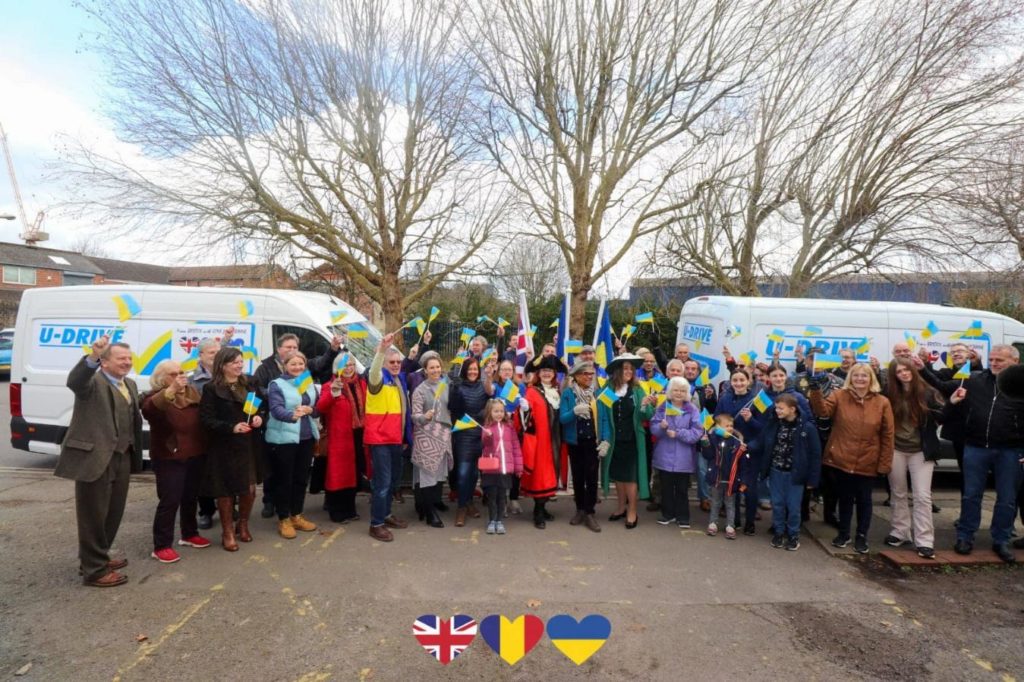 Exactly one year on since the From Bristol with Love for Ukraine charity, started under the auspices of the then Honorary Consulate of Romania in Bristol, we are proud to share with you that in the esteemed presence of HM Lord Lieutenant of Bristol Mrs Peaches Golding OBE, HM High Sheriff of Bristol Dr Alex Raikes MBE, The Lord Mayor of Bristol Cllr Paula O'Rourke, signalling an unwavering support for the People of Ukraine.
Our Community dispatched our 45th and 46th delivery of humanitarian aid From Bristol with Love for Ukraine.
In the past year, with your help and generous contributions we delivered 70 tons of humanitarian aid (medical equipment, food supplies, toiletries, clothes and logistical equipment).
Over 6,000 boxes of aid!
Thank you to our Guests, Donors, Volunteers and Partners who made this special day possible.
Thank you to the Wonderful and Most Generous Blue Knights for providing generous funding and honorary escorts.
Thank you to the BBC, ITV, Bristol 24 and Bristol Heart for sharing our story: https://www.itv.com/news/westcountry/2023-02-26/urgent-aid-being-delivered-to-ukraine-after-mammoth-effort-from-volunteers
Ileana and I were humbled by the show of support and are grateful for the flowers, bottle and cake – they meant a great deal to us.
Thank you to all those absent who were KEY to our achievements: Chris, Jane and Julian Crowther Family, Remy Horton, Bristol City Council, the Bonaventure Church, the Doveton Printing Ltd, Maranata Romanian Pentecostal Romanian Church, Cornwall Communities, St Peter's Hospice, Shrewsbury Community, UWE Choir, South Gloucester Council and all the absent Transporters, all the absent Donors, all the absent Volunteers and lots and lots more people and communities who donated, volunteered and helped us believe and reminded us that..
Humanity will prevail!
Delivery No.44
Delivery date: 14 February 2023
Delivery type: Local Purchase Costco
Transporter: Not Applicable
Approximate quantity: £4,000 – 3 tones
Delivery contents: Pasta and canned meats
Delighted to announce that our latest delivery of humanitarian aid (£4,000 worth of pasta and canned meet) sent From Bristol with Love for Ukraine is now safely in Ukraine. It will be distributed as a matter of urgency where most needed. Thank you to all who made this new delivery possible. Humanity will prevail!
From Bristol With Love are happy to share with you that another huge delivery of food (canned meat) took place today from Costco Romania into the Ukrainian vans and straight across the border into Ukraine.